3D Front-Lit Signage
3D Front-Lit Signage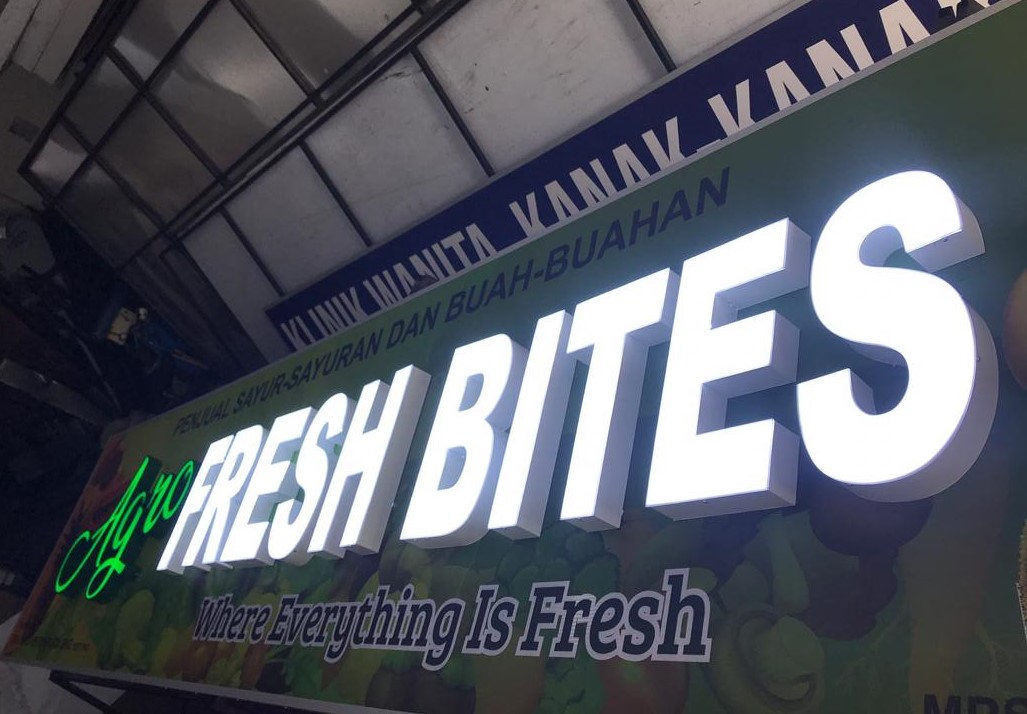 Check out the article below about this product and real samples below.
---

3D-Frontlit Signage - Custom or Readymade Signboards
---
Last Updated on July 7, 2021 at 7:00 PM
---
3D Front-Lit Signage
Three Dimensional Front-Lit Signage, also known as 3D signage, are the designs used to convey and advertise anything you want. 3D Front-Lit. They are more visible to see even from a distance because of their height, width, and bright light compared to any other 2D banners. They can be used at different locations.
3D front-lit signages are used by business owners and wholesale shop retailers as well. Different eateries and restaurants are adopting 3D signage designs to make their place look more mesmerizing and aesthetic. It is widely used worldwide, especially all over Malaysia, by different shops and restaurants.
Benefits of using 3D Front-Lit Signage
Who does not want people to see their restaurant, eatery, or any other shop from a distance? 3D front-lit signage may attract the local audience, but they are a great marketing source on the spot. On a busy road with many same businesses you own, you should adopt something different and unique to stop and attract the consumers.
Imagine passing through a busy road and seeing beautiful and bright 3D signage on the road. It will immediately grab the consumers' attention and force them to at least look into your business. 3D Front-Lit signage is now commonly used by business owners in Malaysia, and they work really well to attract customers and grab their attention.
Front-Lit signage will add a unique element to your business. Likewise, 3D signage designs will give you a polished look. With so many different and unique designs, you can choose the best for your business.
"Very affordable, and the work is amazing. I was quoted half price cheaper compared to competitors. Highly recommended!"
- JAKE L, Trainer
There are numerous examples of entrepreneurs and business owners who prove how 3D signage can increase your customers and benefit you in every possible way.
How does 3D Signage work?
3D Front-lit Signage is made of non-pass materials such as stainless steel, aluminium, brass, etc. The front is made of light pass materials such as acrylic or poly to help pass light easily. The quality of the material is essential because 3D signages are primarily used in outside environments. There are many 3D Signage sellers in Malaysia, but not every company provides such good quality signage as you want.
The 3D Front-lit signage is waterproof so that it can handle all the harsh weather. The installation method is pretty easy. You just have to place it on the wall or the building you want with support. The easy installation method makes it more handy and reliable.
Where can you use 3D signage?
3D front-lit signages can be used both indoor and outdoor and will look perfect anywhere. However, it is always suggested to put them where large numbers of people are coming and going. This way, you can attract a large audience to your business. Few ideas to put your 3D signage are:
External Areas
Putting 3D signage outside your shop or cafe will attract a large audience. As people travel through the location, they will see your 3D signage and get interested.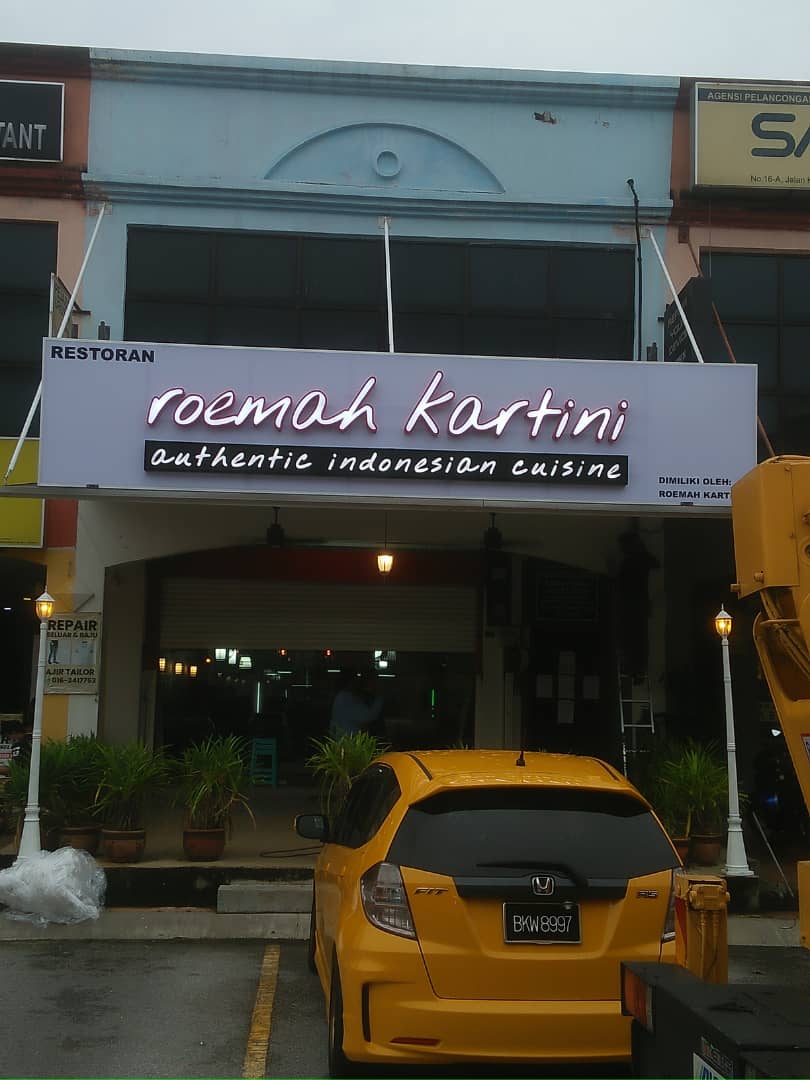 3D Front Lit Signboard for Retaurant
Hallways
If you plan to put 3D signage inside your company or shop, then the hallway will be the best location for it. The 3D signage can be many signs to direct or simplify your business as well. This can have a positive impact on your consumers, and they will come again.
Dining Area
If you plan to get 3D signage for your restaurant or eatery, putting it in the dining area will make the dining area very attractive. In addition, you can use some neon lighting on the sides to make it look more beautiful. The 3D signage can also become a good spot for taking pictures.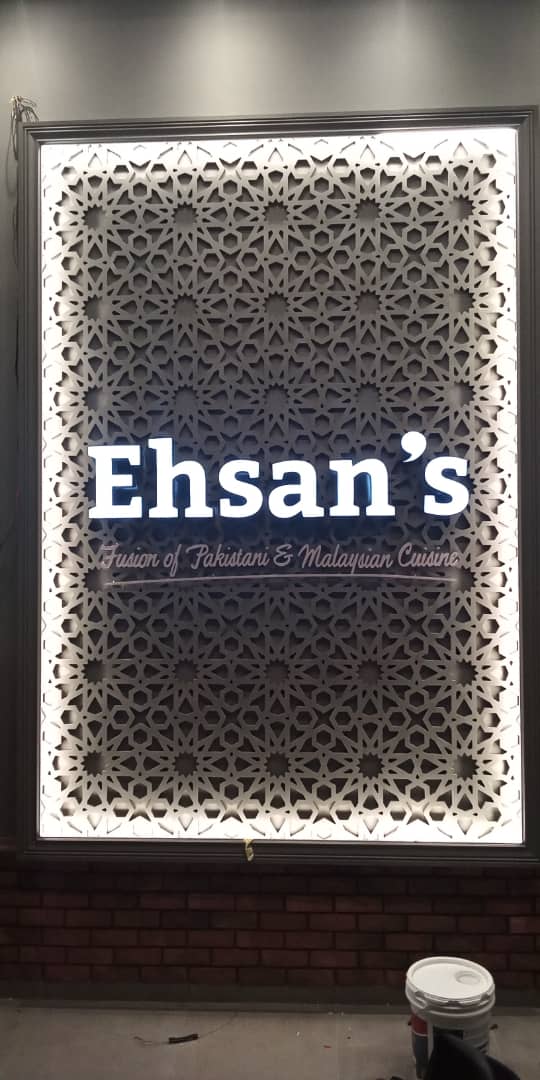 3D Front Lit Signage at Dining Area
How Much 3D Front-Lit Signage Cost?
The price of 3D signage depends upon the design you are choosing. As mentioned above, you can get the 3D signage of every alphabet and almost all designs. The price totally depends upon the complexity of the 3D design. It is expensive as compared to 2D signboards and other lightboxes, but the money is worth it.
A good quality 3D front-lit signage will be expensive but reliable. It will be like a long-term investment in the marketing of your business or brand. By investing money and little effort, you can attract a large audience.

"This company is very reliable, and they give us the perfect outcome, and its pricing is also quite reasonable. Also, the boss is a good communicator. I would highly recommend this company as they provide the best services."
-MS BELL, Fashion Designer
A recent survey by NeonPlus showed that around 64% of customers and consumers are more attracted by the businesses which have eye-catching and illuminating 3D signages. The survey included 1,000 people, and they were asked to choose between two businesses according to which attracts them the most. Around 650 people chose the business with 3D signages and told the researchers that they were drawn more towards this business.
The survey shows the positive impact of 3D signage on every business. Consumers tend to enjoy and visit those places that provide good services and look attractive as well. 3D signages are naturally highly visible. The neon signs and 3D signage will impact the human mind, which 2D billboards and other signs can not do.
FAQ's
1. How much can 3D signage affect my business?
A good and attractive 3D signage can attract a good number of local audiences to your business. The signs grab the attention of the consumers, and they become curious about the business.
2. How can I choose the right 3D design for my business?
The 3D design holds importance as it should be unique and attractive. You can always get ideas and inspiration from different places but make sure that your business chooses a unique and catchy design.
3. How can I place an order for 3D signage?
You can contact us on Whatsapp anytime to get further information about the 3D signage and place your order.
Check Out Other Signboard Types
Useful Link. Must Read!
Before you setting up your signboard, please read this
Similar Products
×