Signboard License Malaysia
Signboard License Malaysia

---
Posted on January 4, 2020 at 12:00 PM
---
Once you have planned to start a business you will need to take into consideration of signboard. A Signboard is essential as it plays a bigger role in branding your business nor for the people to see. Advertisement is all around us. It can be roadside, shoplot, shopping complex, TV, theatre, phone mostly everywhere.
The impact of advertisement hugely contributes to business branding. If you have decided to put up a signboard for your shop or roadside it is important to take signboard license legally. If you put a signboard without the local council approval you might charge certain fine which is really a huge issue.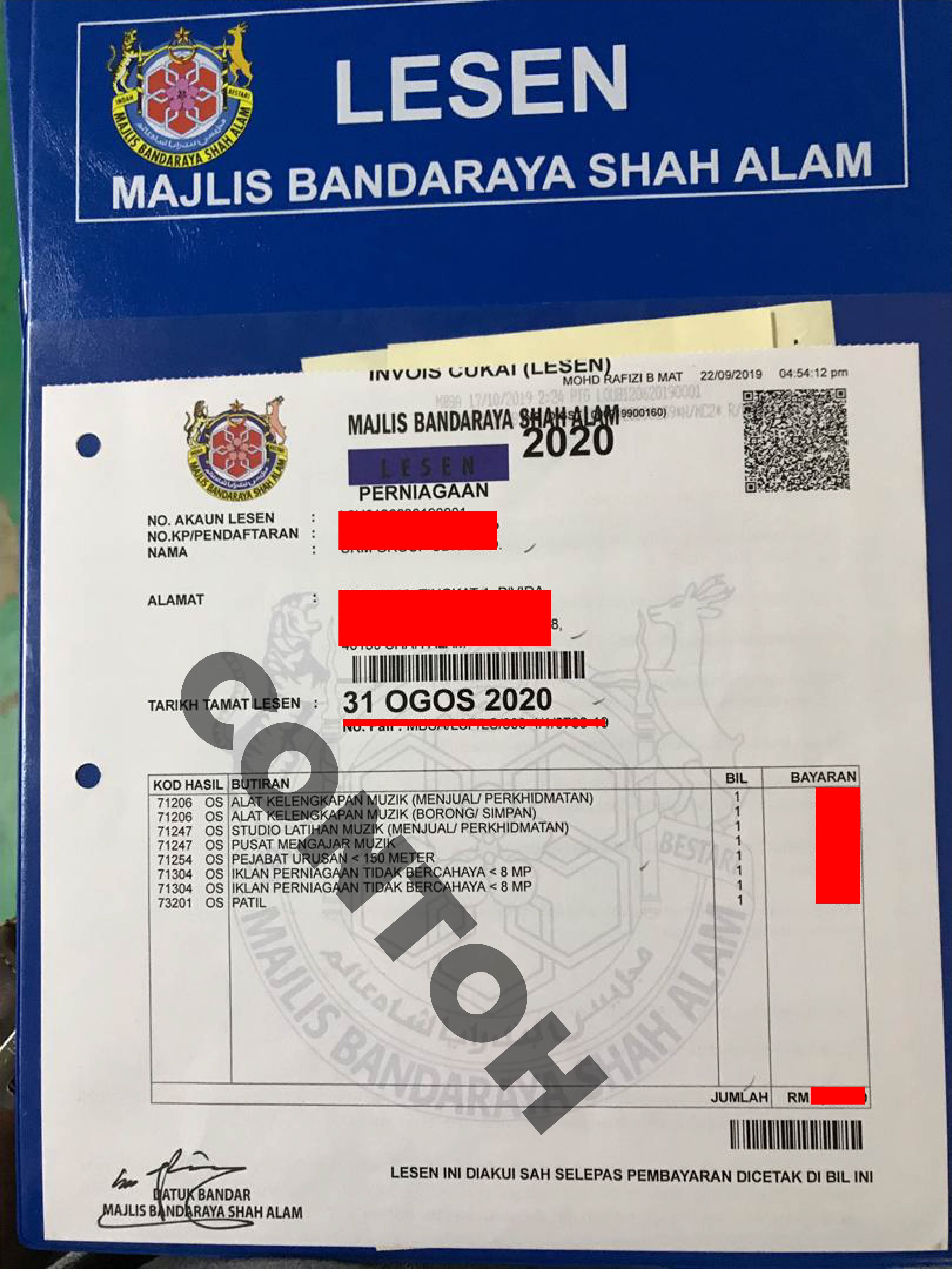 Signboard License Certificate Sample
Do not try to think that no one will come and check your premise and you could escape from applying for the signboard license. They might do a spot check and could fine you if you do not show the license document to them. It could be really costly and troublesome which require more process. Some local council authority even will request you to dismantle the signboard and put it up again after getting the signboard license. This also will incur additional cost as you want to hire the signboard contractor to do so. Therefore it is important to take signboard license prior to putting up your signboard on your premises.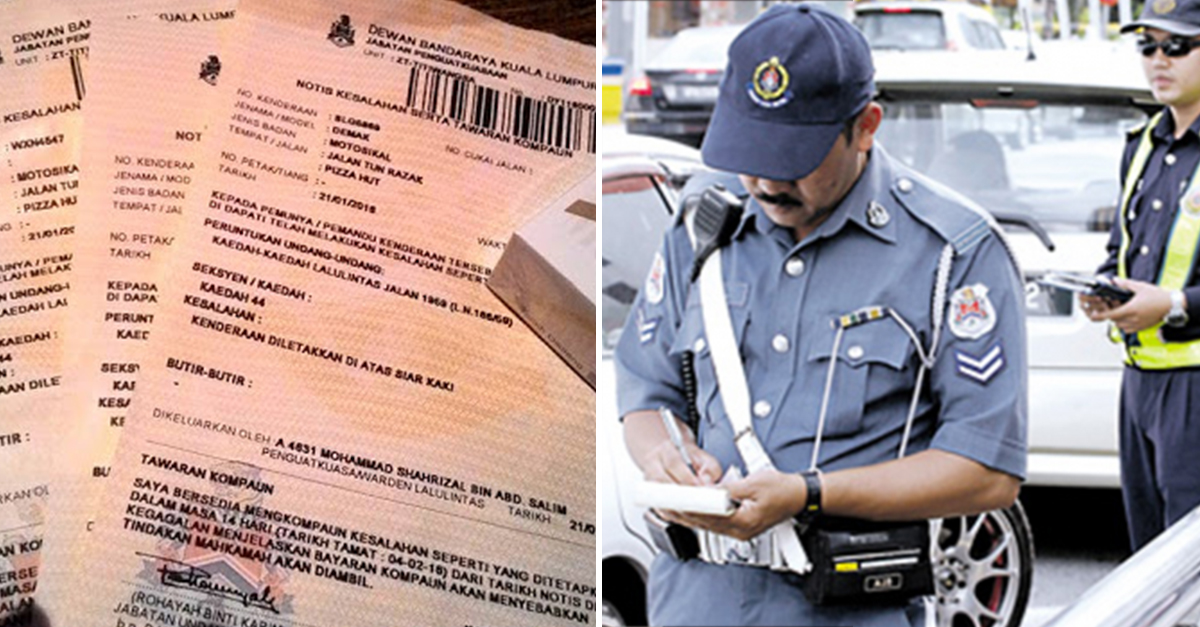 You might ask why you will need to pay to the local council. It's is because they will need to make sure that you follow all the rules and regulation of putting up the signboard as it will not cause additional issues such as collapsing signboard, installing at a wrong premise which could cause an issue to your neighbour, installation on a place where it can hinder BOMBA to perform their duty during an emergency. There is much more reason so it is a must to take the signboard license.
There are few processes involves getting the signboard license. The process needs to be well understood and process accordingly to not waste a lot of time and cost. Mostly it will be taken care of by the agents as they have a lot of experience of getting the license. Different business nature will have a different kind of documentation and procedure. Therefore it will need to be well understood and process accordingly. Call us if you like to get our service to get the signboard application for you with a reasonable processing fee.
Generally, the signboard process starts with design of the signboard. The design of the signboard needed to attach together with the application form ( borang permohonan ). The design needs to follow a certain format such as to have Bahasa kebangsaan on the design with at least 30% bigger than the other languages and should be clearly visible. The nature of the business also needs to mentioned clearly on the left top with required size. Example if you owns a restaurant then you should add on the left top corner RESTORAN clearly to meet the prerequisite to get the signboard license or PEJABAT URUSAN if you own an office. Call us If you would like to utilize our service to design without any hassle. If you order the signboard with us generally we will give our clients free general design. Charges are applicable if the design required a huge effort.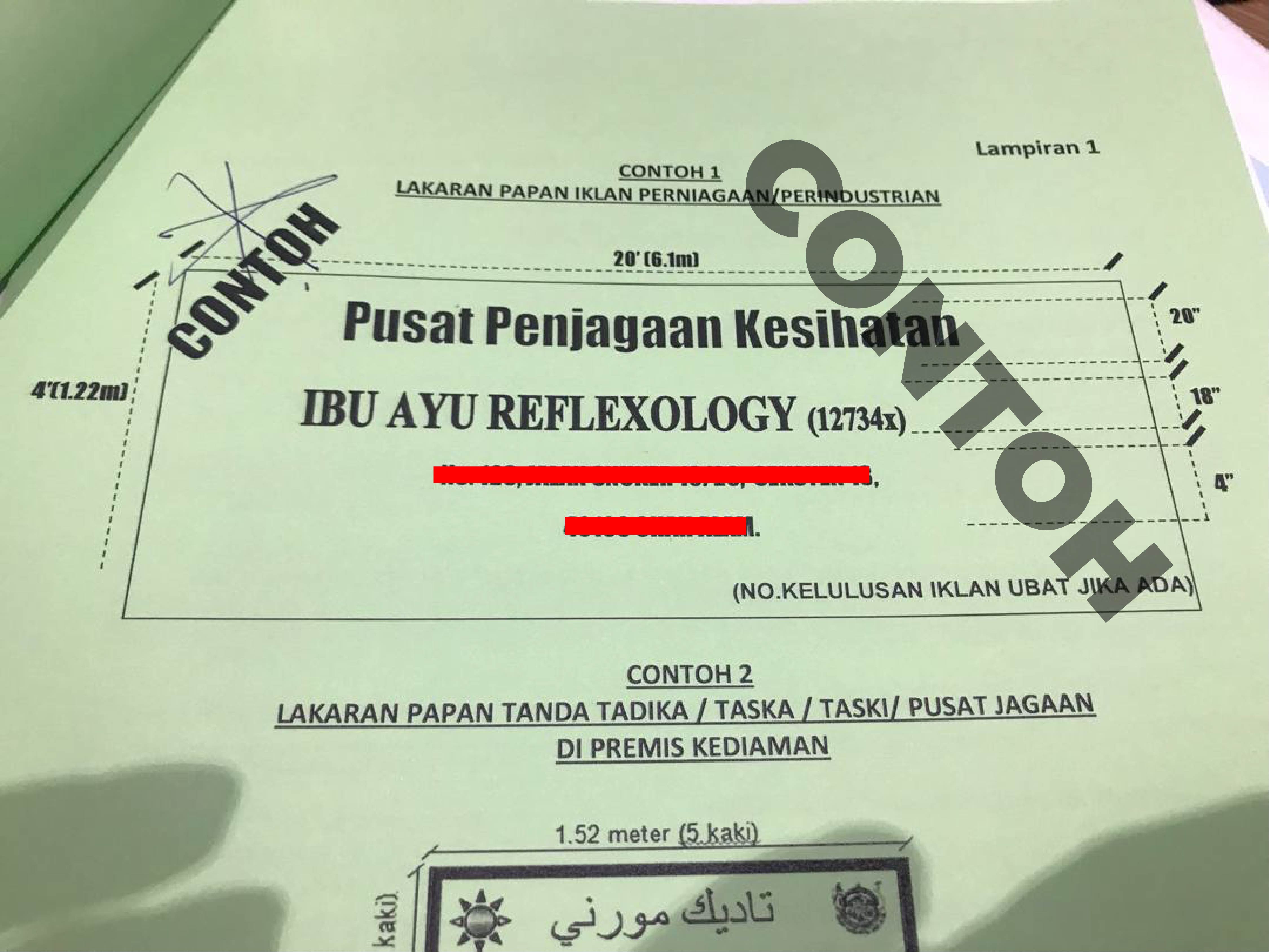 Signboard Design Template

Signboard Design Sample
There is a government body to approve your design before you proceed to submit the documents to the local council. Dewan Bahasa dan Pustaka also knows as DBP is the service provider to approve your design. There will be some charge to apply and usually, we will consume together with the signboard application as it is within the whole process. DBP might reject your application if never meet the condition of the design and might require to resubmit the design.

Sample Rejection from Dewan Bahasa Dan Pustaka (DBP)
Signboard General Documents
Once the design is ready and approved you will need to prepare the required documents for signboard license application. Below are some of the documents needed:-
Salinan Perakuan Pendaftaran Syarikat (Borang 24, Borang 49 serta Memorandum & Artikal Persatuan) mengikut Akta Pendaftaran Syarikat 1965.
Gambarajah dan Visual Iklan ( DBP approved signboard design )
Pelan Lokasi Pemasangan ( Signboard Installation Layout )
Salinan Surat Kebenaran dan Perjanjian Sewa Tapak Daripada Pemilik Kawasan Mematuhi Syarat-syarat Lesen Iklan Luaran
Salinan Pelan Struktur Paparan Iklan Luaran ( Building Layout )
Salinan Surat Kelulusan Merancang daripada Jabatan Perancangan Bandar
Salinan Surat Kelulusan Pelan Struktur daripada Jabatan Bangunan
There might be more documents needed and it depends on the local council requirmements. There are many local council and find out your local councils and apply accordingly. Few local councils as follows:-
List of Local Council
---
Check Out Other Signboard Types
Useful Link. Must Read!
Before you setting up your signboard, please read this